Randy Rose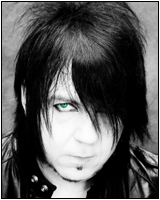 Randy Rose was a member of MATW during its entire existence as a band from 1987-1998. When MATW was a synthpop band during its first two years, Randy played percussion, worked on the drum programming, and sang backup vocals. He sang lead vocals for the song "Dancing on Your Grave" for the second album Flowers in the Rain.
When the band decided to change its music style, Randy was one of the members who wanted to go for more of a hard rock sound. This is evident in the songs he sang on the Seasons of Love album such as "So Insane" and "It's Not A Joke." He also wrote and sang "Marshmallow Land" which became a trademark song for him.
During 1991, Randy recorded the solo project titled Sacrificium to experiment with a metal sound often compared to Danzig. He rerecorded "Marshmallow Land" and wrote all original material for the rest of the album. Among others, fellow MATW members Roger Rose and Brent Gordon played instruments on this album.
MATW then recorded two more albums over two years, Boomerang and Through The Forest. Randy wrote and sang the songs "Don't Give Up," "Sunday," "Trapped," and "Alone" for these albums, also playing drums and other percussion for all of the songs on the albums.
In 1993, Randy formed his own metal band called Rose. They released two albums that year, Healing and an Intense Live EP.
From 1993 to 1995, MATW released The Ferris Wheel and The Dreamland Café, two albums that had the sound of retro rock. Randy wrote and sang "When Life Has a Plan." He also co-wrote the songs "The Love," "No Secrets," and "I Need You." His cousin Danny Rose helped in writing the songs.
In 1994, Randy's band Rose also adopted a retro style of music and released their final album with Intense Records called Crazy Little World.
Rose released the album Into The Unknown in 1995 on the R. E. X. label. The album contained unreleased metal songs not used when the band was with Intense Records.
Randy also worked on a side project in 1995 called Mood Ring and released the song "Mood Ring" on a R. E. X. compilation in that year. This song brought back some of the sythpop elements into Randy's music. Unfortunatly, R. E. X. went under not too long after, so no more songs were released under the name Mood Ring.
In 1997, Randy released a 7" vinyl record called Black Tar under the name The Crocodiles. It featured two songs: "Grease" and "In Your Arms." Both songs have a rockibilly sound to them.
In 1998, Randy returned to the genre of synthpop and released songs under Ronnie Martin's label Plastiq Musiq. Randy's new band Mothership (briefly named Saturn Project) had him joining his talents with cousin Danny Rose.
In 2002, Randy abandoned the synthpop sound and continued with his band Mothership into the realm of alternative rock. His album Rockstar is often compared with the style of Weezer, The Vines, and The Strokes. This album was released independently under Randy's own label Hindenburg Records.
In 2016, Randy announced the return of his band Rose. The album "Songs for the Ritually Abused" was released in 2017. Info and purchase information available here.