ROSE is a Christian metal band formed by Randy Rose in the early 1990's. After his other band Mad at the World transitioned into a hard rock band in 1990, Randy decided to further explore the metal genre with his solo effort Sacrificium. Upon its success, a full band was formed which released four more albums during that same decade: Healing, Intense Live Series Vol. 3, Crazy Little World, and Into the Unknown. (The album Crazy Little World took a brief detour into the realm of alternative rock, but the albums that followed returned to the metal genre.) In 2010, Randy brought back ROSE with a new lineup, and he released a video to highlight an unreleased song titled "Witchburner." In 2016, a Kickstarter was launched to fund a new album, and Songs for the Ritually Abused was released the following year. Also in 2017, "Witchburner" was released as both a single and along with other songs on an EP.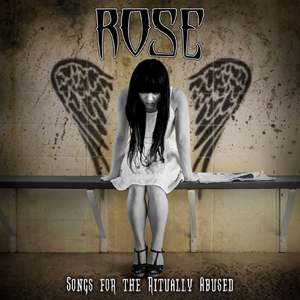 ROSE released a new album titled Songs For The Ritually Abused. Along with Randy, the new lineup includes Randy Rose Jr., Steven Rose, Ray Rose Jr., and Joe Giddings. Guest vocalists include Marc Martel, Ken Stringfellow, and Jon Auer. The album was mastered by Gavin Lurssen who has worked on Queens Of The Stone Age, Iggy Pop, The Foo Fighters, and Johnny Cash. The album is available on vinyl, CD, and for download. Info and purchase information available at the official website here.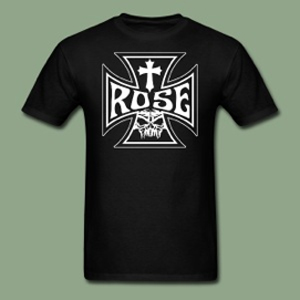 Stone Groove Records is now offering T-shirts and buttons featuring ROSE. You are able to purchase both men and women styled shirts of the Iron Cross (pictured on right) as well as shirts with album covers such as Sacrificium, Healing, Into the Unknown, and SFTRA. Also available are buttons of the Iron Cross and buttons of album covers including Sacrificium, Healing, Intense Live, Crazy Little World, Into the Unknown, and SFTRA. Check it out here.


Randy Rose - vocals, guitars, drums, keys (1991 - present)
Randy Rose, Jr. - guitars, bass (2010 - present)
Steven Rose - guitars, lead guitar, bass (2017 - present)
Ray Rose, Jr. - drums (2017 - present)
Joe Giddings - vocals, bass, guitar (2017 - present)
Leesa Rose - drums (2010)
Kalyn Hay - guitars (2010)
Steve Kumada - lead & rhythm guitar (1993 - 1995)
Ben Jacobs - lead & rhythm guitar (1993 - 1995)
Mike Link - bass guitar (1993 - 1995)
Stan Lessenring - drums (1994 - 1995)
Don Richart - drums (1993)

Marc Martel - guest vocalist (2017)
Ken Stringfellow - guest vocalist (2017)
Jon Auer - guest vocalist (2017)
Danny Rose - additional vocals (1994)
Ronnie Martin - keyboards (1993)
Ray Rose - bass guitar (1991, 1993)
Cathy Rose - backing vocals (1993)
Roger Rose - guitars (1991), backing vocals (1993)
Jason Martin - drums (1991)
Chris B. - drums (1991)
Brent Gordon - lead guitar (1991)