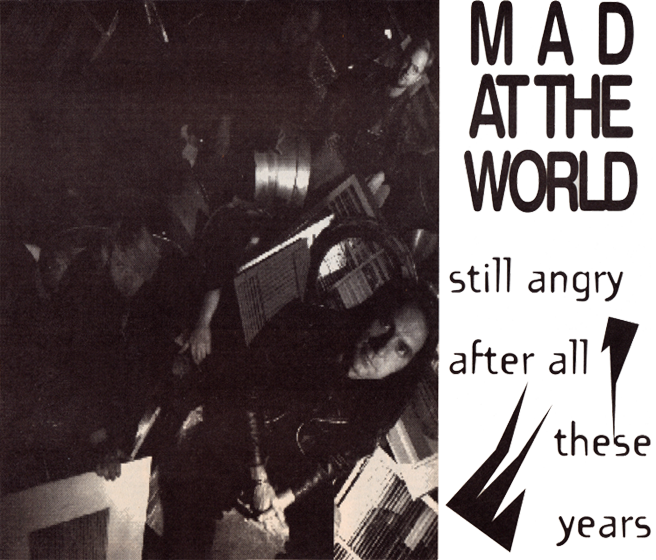 by Jori Butler


Staring at the two brothers who make up the creative core of Mad at the World from a distance, there is a rough edge around them. Roger and Randy Rose appear to represent two opposite ends of the physical spectrum, one tall and dark and rather slender, the other shorter and fair and a little thicker through the middle.


Randy Rose states that big brother Roger was like a father figure to him since there is an eleven year age difference between the two. When Randy was seven, Roger started teaching him to play drums. By age nine, Randy was playing in the band with his brother and at fourteen, he was included in the recording of Mad at the World, the band's debut for Frontline. They have been playing together all this time, bringing the count to nearly sixteen years.

Raised in a close, Christian environment all their lives, the Rose brothers say they never once turned away from the faith of their parents. Never even rebelled. They hold great respect and admiration for their parents. The Rose brothers don't take the credit themselves for their lifestyle choices or personal success. Instead, they compliment their parental units, saying it was the strongly knit relationship between their mother and father and God.


So, how has the band changed after all these years? They practiced the belief that being strong spiritually meant following all the rules that the church had set. They spent their energies trying to keep others from breaking the rules. Over the years, experience and simple observation has taught them that one must work out their own salvation before the Lord. This brings more confidence in building a strong, honest relationship with God.


Just before Mad at the World signed on with Frontline, Roger Rose was basically experimenting with keyboards and took time off from the band to polish this aspect of music. Randy Rose thought the compilation of material he had gathered during this time was strong enough to send out to record companies. Respecting the opinion and musical ability of his younger brother, Rose took the advice. The sound was fresh in Christian music circles, [and] it was well received. One week later, they had a five record deal with Frontline. That commitment has been completed and the group has resigned.


Their first three projects covered a wide range of musical territory. The first having a heavy synthesized, dance sound. Performing this became a problem. None of the members danced. So, there they were on a stage playing dance music with nobody moving.


On the next project, Flowers in the Rain, they used less keyboards and more guitars, hoping to solve the problem. Unsatisfied with the results, on Seasons of Love they cut the keyboards altogether and the gritty, metal edge of the band was given birth.


That sound has carried with them into their latest release, Through The Forest. With thoughtful, captivating eyes, Roger Rose explains the theme and focus. "Through The Forest is like the travels life takes you through, a binding of emotions. Stand in the darkness and open the door. On the other side is golden light and an array of colors and strong shadows. A forest. There is danger and beauty, excitement, fear and joy, a sense of thrill. It is possible to walk through this door and take the journey alone. But there is a tour guide willing and able to take you through this forest. And only by this guide can you arrive to the other side safely."


There is a gentle depth and maturity to Roger Rose that pours without effort as he speaks. It is nearly impossible to capture this wisdom, one almost doesn't want to, afraid to miss something following close behind in the labor of the chase.


Perhaps the recent recordings of Mad at the World aren't polished and squeaky clean -- they record in a house using sixteen tracks and B-quality equipment, trying to get the best possible results. Their live performance is good, in the aggressive hard rock and dual guitar edge, Mad at the World has found a stage confidence that was lacking in the past.


Lead [guitar] player Brent Gordon's biggest dream is finding a guitar that will stay in tune. The band can't afford to play full-time, to have great equipment or a road crew, and they have to settle for doing their music half-way/half-time. Yet, they are happy and definitely one of the more content, satisfied bands in the industry. They aren't suffering at the hands of the Christian music industry, losing sleep, wondering who they should try and network with to accomplish this and that. In Mad at the World, Roger and Randy Rose have created platform to share what God has laid upon their hearts, and that in itself is satisfying.


The band's fears run deeper. With the completion of each song, each project, they wonder if they'll ever be able to create again. They fear condemnation in exchange for honesty. They fear fading away. Roger Rose fears getting old and death itself. And that has nothing to do with music. It happens to us all.


So, how does Mad at the World escape these mundane worries on the surface of life? Can such a band just relax? To the envy of Midwesterners, Gordon rides his bike to the beach. He paints and does illustration on a free-lance basis. Randy Rose writes music. Roger Rose competes in friendly games of racquetball. After finishing a recording, he stays out of the studio for six months.


Roger Rose makes his living as a mailman. How uncanny. Picture him in a postal uniform going from door to door singing the chorus, "Isn't sex a wonderful thing..."


Throughout the hour we shared, it became delightfully obvious that Mad at the World, as a band, loves to laugh. They say they are constantly on diets, because they go out to eat all the time. So, the next time you purchase their music, you may be buying a record from Fat As The World instead.